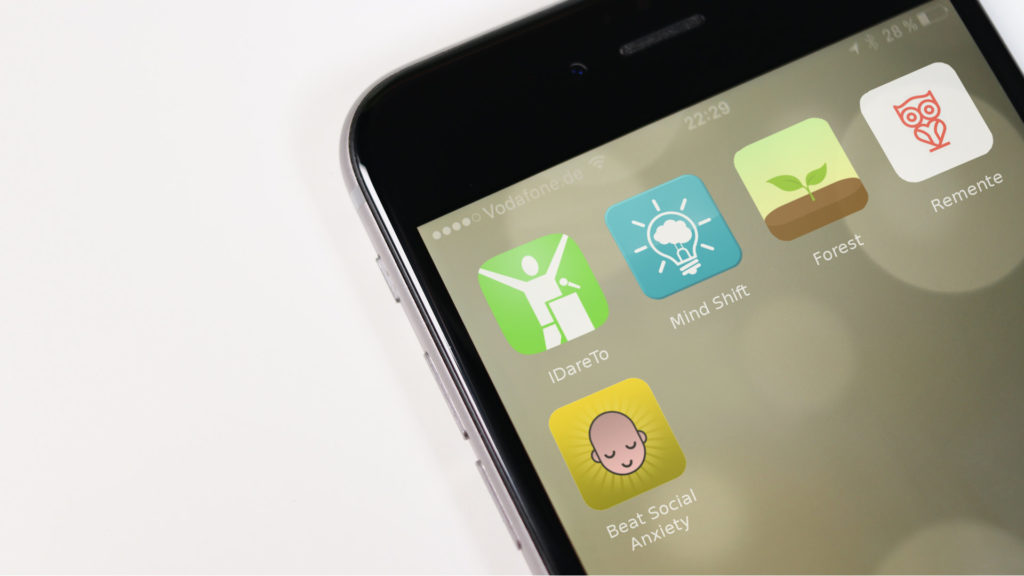 Here is a selection of apps that what we consider to be the most powerful for personal development like improving social confidence, setting goals and focusing.
IDareTo
For increasing social confidence thru comfort zone challenges. A comfort zone challenge is to seek up a situation that triggers social fear. By doing it over and over again the brain gets desensitized, allowing you to do things like holding a presentation to a large audience.
For transparency, the IDareTo app was created by DareCircle, so yes, we do have an interest in spreading the app. Although we think it offers great value. If the concept resonates with you, give it a try.
Key features
Bite sized comfort zone challenges
Four difficulty levels
Track your development
Beat Social Phobia

Beat social phobia treats social anxiety by a series of voice-guided meditation sessions. The app has a social phobia section, but also a relaxation section and an awake section. The part about social phobia works by repeating positive affirmations about confidence, seeing things in perspective and caring less about the opinion of others.
The meditation sessions are available as an Android app and as audio tracks on iTunes.
Key features
Voice-guided meditation audio tracks
Positive affirmation about social anxiety
Listen to "Beat Social Phobia" on iTunes
Get the "Beat Social Phobia" app (Android)
Mind Shift

A set of tools the help battle social anxiety for teens and young adults. It works by installing new ways of thinking and facing the situations rather than escaping them.
Key features
Social anxiety treatment for teens and young adults
Questionnaire to pinpoint problem areas
CBT based education and exercises
Get the Mindshift app (Android)
Remente

The Remente app is a whole set of tools with the goal of you living a richer and more healthier life. It includes a day planner to track habits and routines, courses on subjects like stress management, motivation, and sleep as well as tools for goal setting.
Key features
Daily planner
Life overview tool
Goal setting
Track and get insights into what makes you happy
Courses
Forest

Our phones steal a lot of valuable focus and attention. Forest lets you lock your phone for a chosen amount of time, letting you be more productive, blocking any notifications and hinders the urge to check Instagram or Facebook. A fun feature is that when the phone is locked, a tree grows on the locked screen. The longer the period of focus, the bigger the tree grow.
Key features
Lockout your phone to get more productive
Get rewarded by a tree that grows on your lock screen